DeSoto

District Resources
DeSoto County resources related to the transition of students with disabilities are provided in multiple categories in the box to the right. Some resources may be included in more than one category.
Local Agency Resources
Agency for Persons with Disabilities (APD)
Jeff Smith, Suncoast Region Manager
(800) 615-8720
1313 North Tampa Street, Suite 515, Tampa, FL 33602
Works in partnership with local communities and private providers to assist people who have developmental disabilities and their families. APD also provides assistance in identifying the needs of people with developmental disabilities for supports and services. The agency serves more than 50,000 Floridians with the following disabilities: People severely impaired by Autism, Cerebral palsy, Spina bifida, Intellectual disabilities, Down syndrome, Prader-Willi syndrome, Phelan-McDermid syndrome.
Career Source Heartland
DeSoto Center
(863) 993-1008
2160 NE Roan Avenue, Arcadia, FL 34266
Provides a full array of employment and training related services for job seekers, workers, youth and businesses. May include Disability Program Navigators, Vocational Rehabilitation counselors and Veterans Services on-site.

Division of Vocational Rehabilitation Services
Arcadia Unit 19AB
Laurel White, Supervisor
(863) 993-4655 (863) 993-4738
1733 E Oak St., Arcadia, FL 34266
Works with people who have physical or mental disabilities to prepare for, gain, or retain employment and find meaningful careers.

Division of Blind Services
Bruce Emmerton, District Administrator
(941) 721-2917
600 8th Avenue, W., Suite 302, Palmetto, FL 34221
The Florida Division of Blind Services helps blind and visually impaired individuals achieve their goals and live their lives with as much independence and self-direction as possible.
Family Network on Disabilities Statewide
misti@fndfl.org
(800 )825-5736
2196 Main Street, Suite K, Dunedin, FL 34698
The state of Florida's Parent Training and Information Center.

Center for Autism and Related Disabilities at USF
(813) 974-2532
13301 Bruce B Downs Blvd., Tampa, FL 33612
To provide support and assistance with the goal of optimizing the potential of people with autism, dual sensory impairment and related disabilities.

Lighthouse Vision Loss Education Center
(941) 359-1404 I info@LighthouseEducationCenter.org
7318 North Tamiami Trail, Sarasota, FL, USA
The Lighthouse Vision Loss Education Center provides training in skills that promote self-sufficiency and independence in the lives of individuals who have vision loss. Our programs offer a holistic approach by providing training and rehabilitation to foster independence, productivity, and improved quality of life. Through interview and assessment, classes and resources are carefully chosen to provide each client with skills to live independently and with confidence to undertake activities. Training may vary from individual in-home instruction to facility-based classroom training sessions.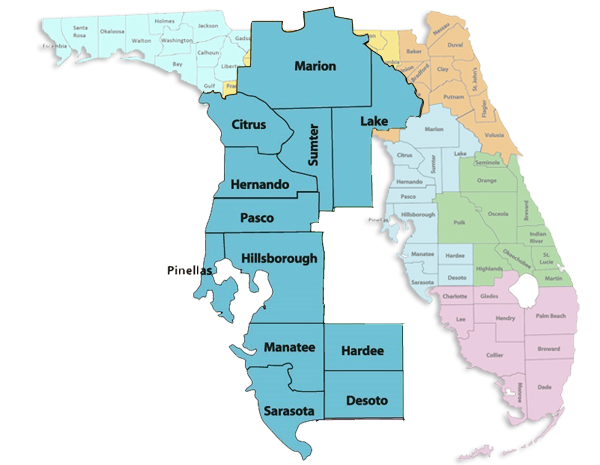 West Central Florida - Blue Region - 4