Lake

District Resources
Lake County resources related to the transition of students with disabilities are provided in multiple categories in the box to the right. Some resources may be included in more than one category.
Student/Family Resources
Agency for Persons with Disabilities (APD)
Clarence Lewis, Central Region Manager
(352) 330-2749
901 Industrial Drive, Wildwood, FL 34785
Works in partnership with local communities and private providers to assist people who have developmental disabilities and their families. APD also provides assistance in identifying the needs of people with developmental disabilities for supports and services. The agency serves more than 50,000 Floridians with the following disabilities: People severely impaired by Autism, Cerebral palsy, Spina bifida, Intellectual disabilities, Down syndrome, Prader-Willi syndrome, Phelan-McDermid syndrome.
The Arc, Sunrise of Central Florida
(352) 787-3079
35201 Radio Rd, Leesburg, Florida 34788
The Arc Sunrise of Central Florida (formally SunriseArc) was founded in 1964 by a group of parents who wanted to initiate more help and services for their children with Intellectual and Developmental Disabilities (I/DD) including Autism, Down Syndrome and Cerebral Palsy. Since then we have become a primary resource in serving clients with disabilities in Central Florida. Currently serves over 100 clients at our Adult Day facility and have opened 6 group homes in Lake County. Our primary goal is to provide the necessary supports for facilitating the transition and empowering clients with the necessary tools in becoming active members within the community. The Arc, Sunrise of Central Florida is shining the light on those with disabilities by providing a variety of specialized services and programs including contract work, exciting activity opportunities, vocational and social skills training and daily living skills development.
Building Blocks Ministries
(352) 536-9264
548 South Hwy 27, Suites B & C Minneola, Florida 34715
Building Blocks provides Community Training, Exploring Work, Health and Wellness and Life Skills Training Programs to adult individuals with developmental disabilities.
Career Source Central Florida
(352) 360-6280
1415 South 14th Street, Suite 101, Leesburg, Florida 34748
Provides a full array of employment and training related services for job seekers, workers, youth and businesses. May include Disability Program Navigators, Vocational Rehabilitation counselors and Veterans Services on-site.
Center for Autism and Related Disabilities
(407) 823-6011
12424 Research Parkway Suite 365, Orlando, Florida 32816
UCF-CARD, Center for Autism & Related Disabilities is a state discretionary project that provides education, consultation and resources. There are 7 CARD offices located at 7 universities across the state of Florida. UCF-CARD serves Central Florida families and professionals in the following counties: Lake, Sumter, Orange, Osceola, Seminole, Volusia and Brevard. Parent training are available year round. For events see www.pals.ucf-card.org.
Division of Blind Service
Orlando (District Office)
Jeff Whitehead, District Administrator
(407) 245-0700 | (866) 841-0928
400 W. Robinson Street, S1026, Orlando, FL 32801
The Florida Division of Blind Services helps blind and visually impaired individuals achieve their goals and live their lives with as much independence and self-direction as possible.
Division of Vocational Rehabilitation Services
Leesburg Unit 12G
Danielle Delgado, Supervisor
(352) 630-6200
8112 Centralia Ct., Suite 102, Leesburg, FL 34788-3701
Works with people who have physical or mental disabilities to prepare for, gain, or retain employment and find meaningful careers
Easter Seals Florida
(407) 306-9766 | (352) 383-4711
Easter Seals Florida Headquarters 520 N. Semoran Blvd., Suite 280, Orlando, Florida 32807
Easter Seals provides exceptional services, education, outreach and advocacy so that people living with autism and other disabilities can live, learn, work and play in our communities. Easter Seals offers help, hope and answers to more than a million children and adults living with autism spectrum disorder (ASD) and other disabilities or special needs and their families each year. Services and support are provided through a network of more than 550 sites in the U.S. and through Ability First Australia. Each center provides exceptional services that are individualized, innovative, family-focused and tailored to meet specific needs of the particular community served.
Florida Department of Health in Lake County
(352) 589-6424
16140 U.S. Highway 441, Eustis, Florida 32726
The Florida Department of Health works to protect, promote & improve the health of all people in Florida through integrated state, county, & community efforts.
Goodwill Industries of Central Florida
(407) 859-4750
Orlando, Florida 32809
Kids Central
(352) 873-6332 | (352) 873-8323
880 S. Duncan Drive Tavares, Florida 3277884
Kids Central, Inc. is the nonprofit organization serving Citrus, Hernando, Lake, Marion and Sumter Counties. The agency develops and manages a comprehensive, community-based system of care for abused, neglected and abandoned children and their families. Kids Central is committed to promoting the welfare of expectant mothers, babies, children and young adults through prevention services, in-home care, foster care and adoption.
Lake County Connections
(352) 326-2278
A state-funded program, the paratransit service, Lake County Connection, provides low-cost transportation throughout Lake County to individuals who qualify as "transportation disadvantaged" as defined by state statutes.
Lake County Public Transportation
(352) 323-5733
2440 U.S. Highway 441/27 Fruitland Park, Florida 34731
Lake County Transit is the major public transportation provider in Lake County. Lake County Transit will continue to improve the quality of life for County residents and visitors by providing, in a cost-efficient manner, a readily-accessible, intermodal means of mobility for those who want to use its services and by providing alternative means of transportation to minimize impacts of traffic congestion on major roads in the county.
LifeStream Behavioral Center
(352) 315-7800 | (866) 355-9394
515 West Main Street, Leesburg, Florida 34748
LifeStream Behavioral Center is a community behavioral mental health center, hospital and outpatient practice. We specialize in adult and childhood mental health and addiction services. We believe recovery and wellness are possible for everyone.
New Vision for Independence, Inc.
info@newvisionfl.org
(352) 435-5040
9501 US Hwy. 441, Leesburg, Florida 34788
New Vision for Independence is a 501 (C)(3) nationally accredited, non- profit organization serving adults and children with visual impairments, in Lake and Sumter Counties and The Villages. We are committed to excellence in providing rehabilitation, community education and support services for people with low vision or blindness and their families to promote independence, acceptance and self-confidence.
Social Security Administration Office / Supplemental Security Income (SSI)
(800) 772-1213 | (352) 787-2624
Social Security Administration Office 900 N. 14th St, Suite 100, Leesburg, Florida 34748
The Supplemental Security Income (SSI) program pays benefits to disabled adults and children who have limited income and resources.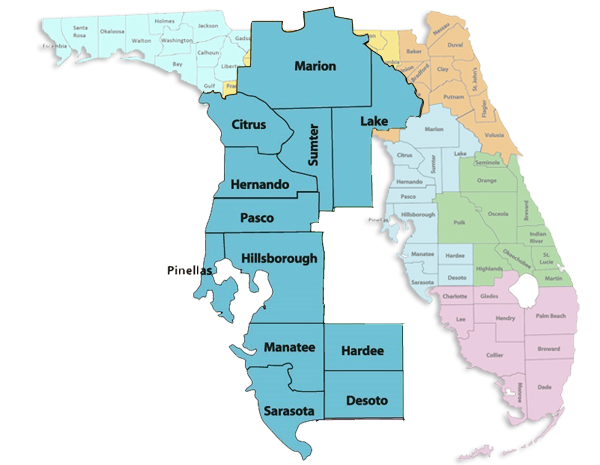 West Central Florida - Blue Region - 4