Manatee

District Resources
Manatee County resources related to the transition of students with disabilities are provided in multiple categories in the box to the right. Some resources may be included in more than one category.
Student/Family Resources
Agency for Persons with Disabilities (APD)
Clarence Lewis, Central Region Manager
(352) 330-2749
200 N. Kentucky Ave, Lakeland, FL 33801
Works in partnership with local communities and private providers to assist people who have developmental disabilities and their families. APD also provides assistance in identifying the needs of people with developmental disabilities for supports and services.The agency serves more than 50,000 Floridians with the following disabilities: People severely impaired by Autism, Cerebral palsy, Spina bifida, Intellectual disabilities, Down syndrome, Prader-Willi syndrome, Phelan-McDermid syndrome.
Amerigroup Real Solutions in Healthcare
(813) 293-7097
4200 W. Cypress St., Suite 900, Tampa, FL 33607
Insurance for children in low-income families
Camelot Community Care
(941) 254-4900
5225 Office Park Blvd., Bradenton, FL 34203
Camelot Community Care provides behavioral health and child welfare services. All of Camelot's services are community-based focusing on helping the child in their home, school and the community.
Career Source Suncoast
Bradenton
(941) 714-7449
1112 Manatee Ave East, Bradenton, FL 34208
Provides a full array of employment and training related services for job seekers, workers, youth and businesses. May include Disability Program Navigators, Vocational Rehabilitation counselors and Veterans Services on-site.
Centerstone
(941) 782-4150 | (941) 782-4617
376 6th Ave. W., Bradenton, FL 34205
2020 26th Ave. E., Bradenton, FL 34208
Centerstone specializes in mental health and addictions so that health and wellness are possible for every family. The Access Center is available 24 hours day/7 days a week for psychiatric emergency services.
Children's Medical Services
(941) 361-6250
6055 Rand Blvd., Sarasota, FL 34238
Children's Medical Services (CMS), a program for clinically eligible children with special health care needs that is family-centered and designed to help children with a chronic and serious medical, developmental, or behavioral condition.
Coastal Behavioral Healthcare, Inc.
(941) 552-1950
1451 10th St, Sarasota, FL 34236
Offering mental health and substance abuse services, outpatient and inpatient services.
Department of Children and Families
(941) 751-8468
2004 43rd Ave. W., Bradenton, FL 34205
Department of Children and Families Bradenton Service Center is a child care licensing office. It also helps administer the ACCESS Florida Program, which is responsible for public assistance eligibility determination and ongoing case management of food assistance, temporary cash assistance and Medicaid.
Division of Blind Services
Palmetto (Satellite Office)
Bruce Emmerton, District Administrator
(941) 721-2917 | (800) 500-6412 | (941) 721-2918
Division of Blind Services, 600 8th Avenue, W., Suite 302, Palmetto, FL 34221
The Florida Division of Blind Services helps blind and visually impaired individuals achieve their goals and live their lives with as much independence and self-direction as possible.
Division of Vocational Rehabilitation Services
Palmetto Unit 18A
Michelle Bradham-Cousar, Supervisor
(941) 721-2850
600 8th Avenue West, Suite 201, Palmetto, FL 34221
Works with people who have physical or mental disabilities to prepare for, gain, or retain employment and find meaningful careers.
Early Learning Coalition of Manatee County, Inc.
(947)-757-2900
600 8th Ave W. Suite 100, Palmetto, FL 34221
The Early Learning Coalition of Manatee County provides and coordinates the services of school readiness programs in order to help all children develop the skills needed to achieve educational success. We strive to improve the quality of services available in Manatee County through early care and education of its children. Services we provide include Child Care Resource and Referral, School Readiness Child Care Funding, Voluntary Prekindergarten, Developmental Screening and Inclusion Services.
Easter Seals of Southwest Florida, VIP Academy
(941) 355-7637 ext. 424
350 Braden Ave. Sarasota, FL 34243
Helping students transition to adulthood and prepare for the workforce through small, intimate, real-world learning environments.
The Florida Center for Early Childhood
(941) 371-8820
4620 17th St., Sarasota, FL 34235
The Florida Center for Early Childhood offers a variety of Therapies, Intervention and Training to residents in Sarasota, Charlotte, Hardee, Desoto and Manatee Counties. Services include Prevention and Intervention; Developmental Therapies, Mental Health Therapy, Early Childhood Education; and Early Childhood Training Institute.
Goodwill Manasota
(888) 230-8820
The Haven
(941) 355-8808
4405 DeSoto Rd., Sarasota, FL 34235
Empowering the lives of children, teens and adults with disabilities, one person at a time. Specialized services and programs include employment; transition; community living; Haven Industries Vocational and Social Training.
Healthy Families Manatee
(941)827.0188 ext.7755
302 Manatee Ave. E., Bradenton, FL 34208
Healthy Families Manatee is a voluntary, home visiting program for expectant and new parents. Services include: supporting effective parent-child interactions; providing child development, nutrition and safety education; providing emotional support and encouragement; and linking families with community services.
The Learning Academy at USF - Employment Services
(813) 974-2996
13301 Bruce B. Downs Blvd., MHC2113A, Tampa, FL 33612
Eligibility: Individuals with an autism spectrum disability, who are receiving services from the Division of Vocational Rehabilitation. Employment Services for individuals with disabilities, who are in need of employment, supported employment.
The Lily School for Child Development
(941) 355-7637 ext.502
350 Braden Ave., Sarasota, FL 34243
The Lily School offers children who are both typically developing and differently abled an equal opportuni- ty to learn in a creative atmosphere by providing high quality education and care that children need in their early development years; ages birth to five.
Manatee Children's Services
(941.345.1200)
453 Cortez Road W., Bradenton, FL 34207
This organization provides 12 programs for the Suncoast Region with essential services to improve the quali- ty of life for children in need. These programs include Residential Programs, Trauma Clinical Services, Pre- vention Services, Child Advocacy Centers and Street Outreach Programs.
Manatee Community Action Agency Head Start/Early Head Start
(941) 751-6667
302 Manatee Ave. East, Bradenton, FL 34208
A comprehensive childhood development program servicing children from birth to five. The center based programs are designed to foster the development of children, including children with disabilities, in a safe, stimulating learning environment.
Manatee County Health Department
(941) 748-0747
212 6th Ave. E., Bradenton, FL 34208
Services available to anyone: birth control (contraceptives); family planning; childhood immunizations (vaccinations); immunization for foreign travel; sexually transmitted disease (STD) testing, treatment and counseling.
Palm Shores Behavioral Health Center
(941) 792-2222
1324 37th Ave. East, Bradenton, FL 34208
Palm Shores Behavioral Health Center provides the highest quality of comprehensive mental health care and education services for at-risk children and adolescents. An intensive inpatient psychiatric program for males and females, ages 5-17 years old, offering structured, supportive and safe environments.
Planned Parenthood
(941) 567-3800
1105 53rd Ave. E., Bradenton, FL 34203
Planned Parenthood offers several services in the areas of health care, education, advocacy and global partnership.
Suncoast Behavioral Health Center
(941) 251-5000
4480 51st Street W., Bradenton, FL 34210
Suncoast Behavioral Health Center is a free-standing acute inpatient psychiatric facility located in Braden- ton FL. The facility provides services for children, adolescents, adults and mature adults experiencing high levels of dysfunction and severe psychiatric problems. Suncoast Behavioral Health Center's approach to treatment is to ensure the highest level of quality and effective services from an interdisciplinary team and to successfully transition patients back to their families, home and community.
The Suncoast Campaign for Grade-Level Reading
The Suncoast Campaign for Grade-Level Reading is a communitywide effort in Manatee and Sarasota coun- ties to help all children, especially those from low-income families, succeed in school by ensuring students read on grade level by the end of third grade. Part of a nationwide movement, The Suncoast Campaign for Grade-Level Reading is focused on addressing the most common issues and obstacles that impact a child's ability to read.
Suncoast Community Capital
(941) 744-2666
302 Manatee Avenue E., Suite 303, Bradenton, FL 34208
The mission of Suncoast Community Capital is to increase financial independence and stability of families and communities of low income. SCC provides opportunities to enhance skills and earning capabilities of community members by providing them with an opportunity to obtain the necessary skills through formal training and credentialing.
Supplemental Security Income (SSI)
5540 SR 64 E., Suite 100, Bradenton, FL 34208
The Supplemental Security Income (SSI) program pays benefits to disabled adults and children who have limited income and resources.
Woman, Infant and Children (WIC): Manatee
(941) 748-0747
212 6th Ave. E., Bradenton, FL 34208
WIC is a special nutrition program for Women, Infants and Children. WIC provides: nutrition education; breastfeeding support; food vouchers; and referrals for health care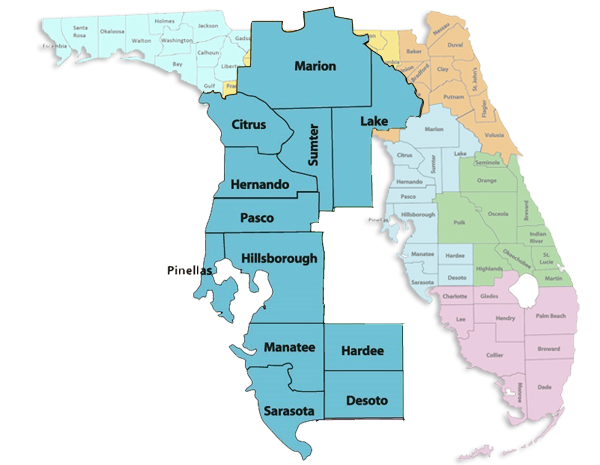 West Central Florida - Blue Region - 4