Pasco

District Resources
Pasco County resources related to the transition of students with disabilities are provided in multiple categories in the box to the right. Some resources may be included in more than one category.
Local Agency Resources
The ARC Suncoast - The Center For Independence
West: 13910 Fivay Rd. Suite B, Hudson 34667
(727) 861-5600
East: 14420 10th Street, DC 33523
(352) 523-1027 | (800) 472-2823
For People with intellectual and developmental disabilities
Career Source Pasco Hernando
(352) 200-3020
7361 Forest Oaks Blvd, Spring Hill, FL 34606
Provides a full array of employment and training related services for job seekers, workers, youth and businesses. May include Disability Program Navigators, Vocational Rehabilitation counselors and Veterans Services on site
Center for Autism and Related Disabilities at USF
(813) 974-2532
13301 Bruce B Downs Blvd., Tampa, FL 33612
To provide support and assistance with the goal of optimizing the potential of people with autism, dual sensory impairment and related disabilities
Division of Blind Services
Nancy Brown, Supervisor
(863) 499-2385
Division of Blind Services, 402 S. Kentucky Avenue, Suite 340, Lakeland, FL 33801
The Florida Division of Blind Services helps blind and visually impaired individuals achieve their goals and live their lives with as much independence and self-direction as possible
Family Network on Disabilities
2196 Main Street, Suite L, Dunedin, FL 34698
(727) 523-1130 | (800) 825-5736
Statewide network of families and individuals who may be at risk, have disabilities or have special needs and their families, professionals and concerned citizens
Lighthouse for the Visually Impaired & Blind
(727) 815-0303
8610 Galen Wilson Boulevard, Port Richey, FL 34668
The mission of the Lighthouse is to provide people who are visually impaired and blind with the skills needed to achieve their maximum independence

Lighthouse for the Visually Impaired and Blind
(727) 815-0303 I referrals@lvib.org
9130 Ridge Road, New Port Richey, FL 6492 California Street, Brooksville, FL
Lighthouse for the Visually Impaired and Blind offers adults and seniors with a comprehensive vision rehabilitation program to promote optimal independence in all areas of independent living and includes assistance with coping and adjusting to vision loss and low vision. Babies served in "The Little Lighthouse" learn to use any residual vision they may have as well as their other senses so they are able to meet developmental milestones and are prepared for entering school. Children and teens receive independent living skills training and prepare for future employment. Family members and professionals also receive support and information. Clients are provided with transportation for services at both of our Lighthouse facilities. We also have low vision stores in Port Richey and Brooksville.
Pasco County Public Transportation
8620 Galen Wilson Boulevard Port Richey, FL 34668
(727) 834-3322 | (352) 521-4587
The Red Apple Day Training Program
6640 Kentucky Avenue, New Port Richey, FL 34653
(727) 847-2555
Adult day training to teach independent living skills, social skills and basic employability skills to adults who are mentally challenged
The Social Security Administration
West 11435 US 19, Port Richey, FL 34668
(800) 772-1213 | TTY (800) 325-0778
(SSA) pays monthly cash benefits.
Speech & Hearing Foundation of Florida (SERTOMA)
(727) 834-5479 | (866) 999-2443
4443 Rowan Road, New Port Richey, FL 34653
Helping children hear one child at a time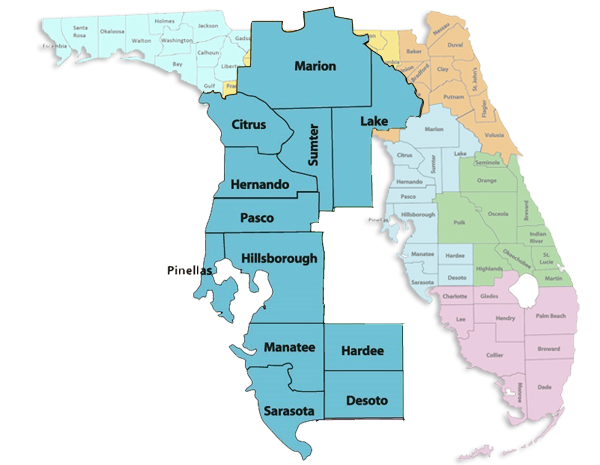 West Central Florida - Blue Region - 4