Sarasota

District Resources
Sarasota County resources related to the transition of students with disabilities are provided in multiple categories in the box to the right. Some resources may be included in more than one category.
Local Agency Resources
Agency for Persons with Disabilities (APD)
Jeff Smith, Suncoast Region Manager
(800) 615-8720
1313 North Tampa Street, Suite 515, Tampa, FL 33602
Works in partnership with local communities and private providers to assist people who have developmental disabilities and their families. APD also provides assistance in identifying the needs of people with developmental disabilities for supports and services. The agency serves more than 50,000 Floridians with the following disabilities: People severely impaired by Autism, Cerebral palsy, Spina bifida, Intellectual disabilities, Down syndrome, Prader-Willi syndrome, Phelan-McDermid syndrome. This office services DeSoto, Hillsborough, Manatee, Pasco, Pinellas and Sarasota Counties.
CareerSource Suncoast
3660 N. Washington Blvd., Sarasota, FL 34234
(941) 358-4200
Provides a full array of employment and training related services for job seekers, workers, youth and businesses. May include Disability Program Navigators, Vocational Rehabilitation counselors and Veterans Services on-site.
Division of Blind Services
Palmetto (Satellite Office)
Bruce Emerton, District Administrator
(941) 721-2917 | (800) 500-6412
600 8th Avenue, W., Suite 302, Palmetto, FL 34221
The Florida Division of Blind Services helps blind and visually impaired individuals achieve their goals and live their lives with as much independence and self-direction as possible. This office services DeSoto, Highlands, Manatee and Sarasota Counties.
Division of Vocational Rehabilitation Services
Sarasota Unit 18B
Michele Guilford, Supervisor
(941) 359-5670
3660 N Washington Blvd., Suite 216, Sarasota, FL 34234
Venice Unit 18BA
Michele Guilford, Supervisor
(941) 882-7730
897 E Venice Ave., Rm. 112, Venice, FL 34285
Works with people who have physical or mental disabilities to prepare for, gain, or retain employment and find meaningful careers
Community Resource Network of Florida, Inc.
todd@crnflorida.com
(866) 367 5961
525 Bowman Terrace, Port Charlotte, FL 33953
Adult day training to adults with developmental disabilities as well as respite, personal supports and PCA for Individuals under 21
Early Learning Coalition of Sarasota County-Child Care Connection
jsmirnov@childcareconnectionsarasota.org
(941) 556 1600
2886-C Ringling Blvd., Sarasota, FL 34237
Prepares children for lifelong success through quality early learning
Easter Seals Southwest Florida
dherndon@easterseal.org
(941) 355 7637 | (800) 807 7899
350 Braden Ave., Sarasota, FL 34243
Disability services related to education, employment, therapies and respite
Epilepsy Services of Southwest Florida
skeen@esswfl.org
(941) 953 5988
1750 17th Street, Bldg l-2, Sarasota, FL 34234
Epilepsy Services provides critical medical attention, including medication, to uninsured individuals over the age of 18 that have been diagnosed with epilepsy. Additionally, we offer case management, referrals to other community services and prevention and educational programs to the community at large.
Family Network on Disabilities of Manasota
bsmith22@tampabay.rr.com
(941) 928 0682
7361 Merchant Ct., Sarasota, FL 34240
FND Manasota provides specialized caregiver support, training, education, information and advocacy to families and community members in Manatee and Sarasota County through a variety of events, programs and specialized services.
Family Network on Disabilities Statewide
misti@fndfl.org
(800) 825 5736
2196 Main Street, Suite K, Dunedin, FL 34698
We are the state of Florida's Parent Training and Information Center.
Ferrari and Butler PLLC
johnf@elderlegalfl.com
(941) 960 1676
2477 Stickney Point Road, Ste 107B, Sarasota, FL 34231
Estate planning, probate and trust administration, guardianship, Medicaid and VA benefit planning
Florida Center for Early Childhood
Kaitlyn Kramer | kaitlyn.kramer@thefloridacenter.org
(941) 371 8820
4620 17th Street, Sarasota, FL 34235
The Florida Center for Early Childhood offers mental health, developmental therapies and early childhood education for ages birth through 8.
Florida RX Card
kiki@floridarxcard.com
(941) 237 6397
Free prescription assistance
Forever Friends Special Needs Ministry
drizzo77@verizon.net
(941) 480 9390
2374 Sonoma Drive West, Nokomis, FL 34275
Partnered with T-Rec Coalition of Sarasota County, we have a monthly "fun day" the 3rd Saturday of each month at Bee Ridge Park, 4403
Lockwood Ridge Rd, Sarasota. All ages with disabilities as well as their caregivers are invited and welcome to these free events.
Foundation for Dreams
kcasella@foundationfordreams.org
(941) 746 5659
16110 Dream Oaks Place, Bradenton, FL 34212
Celebrate the abilities and develop strengths of children with special needs and chronic illnesses ages 7-17. We are a year-round camp open weekends and summer.
Girl Scouts of Gulfcoast Florida
robertar@gsgcf.org
(941) 921 5358
4780 Cattleman Road, Sarasota, FL 34233
Girl Leadership program to build girls of courage, confidence and character who make the world a better place
Haven
sebersole@communityhaven.com
(941) 355 8808
405 DeSoto Road, Sarasota, FL 34235
Empowering the lives of children, teens and adults with disabilities, one person at a time. Specialized services and program include employment, transition, community living, Haven Industries, vocational and social training.
Health Planning Council (Gulf Central Early Steps & Marketplace Navigator)
chelsealarocca@hpcswf.com
(941) 487 5400
4630 17th Street, Sarasota, FL 34235
Early intervention services to children with any kind of delay or disability from birth to 3 years old
Jewish Family & Children's Services of Sarasota - Manatee
lhaber@jfcs-cares.org
(941) 366 2224
2688 Fruitville Road, Sarasota, FL 34234
STARS Program - social and life skills group for differently abled individuals ages 19-30
Lighthouse of Manasota
Sally Meyers | sally.meyers@lighthouseofmanasota.org
(941) 359 1404
Vision rehabilitation training and support for visually-impaired persons throughout the lifespan
Lighthouse Vision Loss Education Center
(941) 359-1404 I info@LighthouseEducationCenter.org
7318 North Tamiami Trail, Sarasota, FL, USA
The Lighthouse Vision Loss Education Center provides training in skills that promote self-sufficiency and independence in the lives of individuals who have vision loss. Our programs offer a holistic approach by providing training and rehabilitation to foster independence, productivity, and improved quality of life. Through interview and assessment, classes and resources are carefully chosen to provide each client with skills to live independently and with confidence to undertake activities. Training may vary from individual in-home instruction to facility-based classroom training sessions.
Loveland Village
dpoinsett@lovelandcenter.org
(941) 493 0016 | (941) 364 5654
Adult Day Training - computer lab, fitness, health & safety; leisure activities, mosaics studio, jewelry-making, Loveland Follies - a partnership with Venice Theater for annual summer performances; supported employment, & community supported living services. Nancy Detert Residences - Venice residential community of 42 apartment and clubhouse.
Prospect Riding Center
prospectridingcenter@gmail.com
(941) 713 1736
PO Box 424, Myakka City, FL 34251
Therapeutic horseback riding and activities ages 5 to adult
Sarasota County Public Libraries
ahardy@scgov.net
(941) 861 5460
Books, movies, music and myriad programs for people of all ages, all free
Sarasota YMCA Youth and Family Services
stsantiago@thesarasotay.org
(941) 952 1644
1084 S, Briggs Ave., Sarasota, FL 34234
Individual and family counseling. Services for Homeless children and their families, Achievers Program, HIPPY and Shelter Services
Social Security Administration
Robert Kantrowitz | robert.kantrowitz@ssa.gov
(877) 490 9532, ext. 14021
2001 Siesta Drive, Suite 301, Sarasota, FL 34239
The Supplemental Security Income (SSI) program pays for benefits to eligible disabled adults and children who have limited income and resources.
Special Olympics Florida - Sarasota County
sosarasota@verizon.net
(941) 412 0402
PO Box 2112, Venice, FL 34284
Training and competition in a variety of Olympic-type sports for children and adult with intellectual disabilities
Strider Sports International, Inc.
emillernbl@aol.com
(605) 342 0266
Summary: 12-inch balance bikes for ages 18 months to 5 years old and 16 to 20-inch balance bikes for children and adults with special needs
Suncoast Campaign for Grade-Level Reading
heathermkoester@gmail.com
(941) 539 0621
The Suncoast Campaign for Grade-Level Reading is a community-wide effort to help all children, especially those low-income families, succeed in school by ensuring students read on grade level by the end of third grade. We focus on the most common issues and obstacles that impact a child's ability to read. We offer VROOM (a free parental engagement app) and Mind-in-the-Making (a free workshop with childcare and food).
Suncoast Center for Independent Living
tim@scil4u.org
(941) 351 9545
3281 17th Street, Sarasota, FL 34235
Suncoast Center for Independent Living serves anyone with a disability. We offer youth transition, advocacy, independent living skills, peer mentoring, information and referral, medical equipment loan program, computer loan program and a home modification program.
Suncoast Therapy
dwildermuth@invo-progressus.com
(941) 485 0121
Suncoast Therapy is one of the county's leading providers of outpatient therapy providing Speech, Occupational and Physical Therapy in Venice and Pt. Charlotte. They serve children birth-18 and accept all major insurance plans as well as Medicaid and CMS. They are hosting a Social Skills Camp this summer at the Venice YMCA. The age ranges are 9-12 and 13-17. Contact Dawn or Katie at 941-485-0121 for more details.
Tannenbaum Scro, PLLC
cclark@tannenbaumscro.com
(941) 316 0111
1990 Main Street, Suite 725, Sarasota, FL 34236
Special Needs Trusts, Wills, Revocable Living Trusts, Health Care Directives, Retirement Plan Inheritance Trusts, Firearms Trusts, Pet Trusts, Medicaid Planning (nursing home)
T-REC Coalition of Sarasota County
mbolden@scgov.net
(941) 486 2753
509 Collins Road, Laurel, FL 34272
We provide therapeutic recreational opportunities for teens and adults with disabilities living in the Sarasota County. Monthly activities take place at different venues throughout the county.
United Cerebral Palsy (UCP) of Sarasota Manatee
cseeley@sunrisegroup.org
(941) 251 4956
619 15th Street E, #202, Sarasota, FL 34243
Adult day training, residential rehabilitation, standard and behavior focus and transportation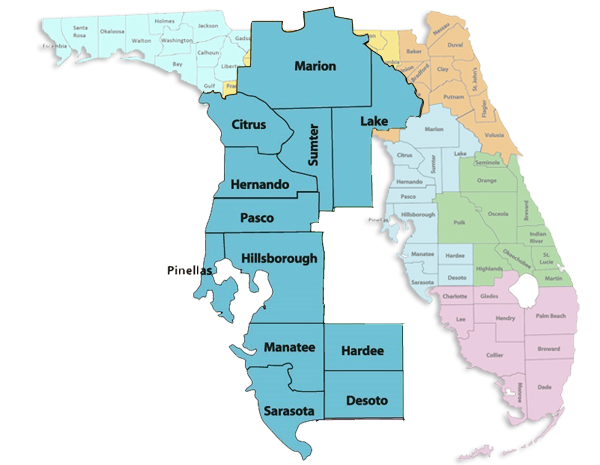 West Central Florida - Blue Region - 4