Sumter

District Resources
Sumter County resources related to the transition of students with disabilities are provided in multiple categories in the box to the right. Some resources may be included in more than one category.
Local Agency Resources
Agency for Persons with Disabilities
H. David Johnston, Administrator
(352) 330-2749
Brenda Stevens, Liaison for Family Care Council | brenda_stevens@apd.state.fl.us
Supports persons with developmental disabilities (spina bifida, autism, cerebral palsy, Prader-Willi syndrome and mental retardation) in living, learning and working in their communities
Department of Children and Families
Bill D'Aiuto, Circuit 5 Administrator
(352) 330-2177
Provides information and/or services for adoption, child care, family safety, financial assistance, foster care, refugee services and mental health
Division of Vocational Rehabilitation
Sarah Reuter, Unit Supervisor | sarah.reuter@vr.fldoe.org
(352) 742-6100
Works with people who have physical or mental disabilities to prepare for, gain, or retain employment and find meaningful careers
New Vision for Independence, Inc.
info@newvisionfl.org
(352) 435-5040
9501 US Hwy. 441, Leesburg, Florida 34788
New Vision for Independence is a 501 (C)(3) nationally accredited, non- profit organization serving adults and children with visual impairments, in Lake and Sumter Counties and The Villages. We are committed to excellence in providing rehabilitation, community education and support services for people with low vision or blindness and their families to promote independence, acceptance and self-confidence.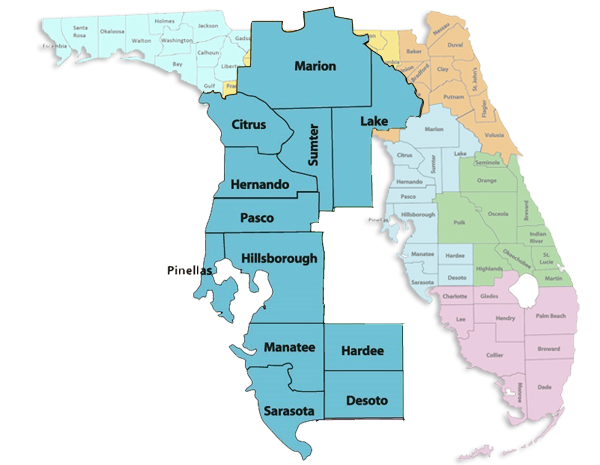 West Central Florida - Blue Region - 4