Duval

District Resources
Duval County resources related to the transition of students with disabilities are provided in multiple categories in the box to the right. Some resources may be included in more than one category.
Employment Program Resources
CareerSource of Northeast Florida
Northside Office
(904) 924-1710
5000 Norwood Avenue, Suite 2 Jacksonville, FL 32208
Southside Office
(904) 997-3100
11160 Beach Blvd, Suite 111, Jacksonville, FL 32246
Provides a full array of employment and training related services for job seekers, workers, youth and businesses. May include Disability Program Navigators, Vocational Rehabilitation counselors and Veterans Services on-site.

Division of Vocational Rehabilitation
Tyika Lee, Supervisor Jacksonville Unit 08B | tyika.lee@vr.fldoe.org
Fredrick Rollins, Supervisor Jacksonville Unit 08D | frederick.rollins@vr.fldoe.org
Connie Brown-Wilson, Supervisor Jacksonville Unit 08F | connie.brown-wilson@vr.fldoe.org
(904) 348-2770
2050 Art Museum Dr., Suite 205, Jacksonville, FL 32207
Danielle Mata, Supervisor Jacksonville Unit 08C | danielle.mata@vr.fldoe.org
(904) 573-3910
7451 103rd St., Suite 11, Jacksonville, FL 32210
Lavonne Gilley-Williams, Supervisor Jacksonville Unit 08G | lavonne.gilley-williams@vr.fldoe.org
(904) 696-5920
2255 Dunn Ave., Suite 609, Jacksonville, FL 32218
Frank Ward, Supervisor Jacksonville Unit 08H | frank.ward@vr.fldoe.org
(904) 301-3660
921 N Davis St., Bldg. B, Suite 115, Jacksonville, FL 32209
Works with people who have physical or mental disabilities to prepare for, gain, or retain employment and find meaningful careers.

Job Corps Centers - Jacksonville
(904) 360-8200
4811 Payne Stewart Dr, Jacksonville, FL, 32209

Work Incentives Planning & Assistance (WIPA)
Information available through the Division of Vocational Rehabilitation
Works with people with disabilities on Social Security Act benefits, eligibility and planning, work incentives, career development and job placement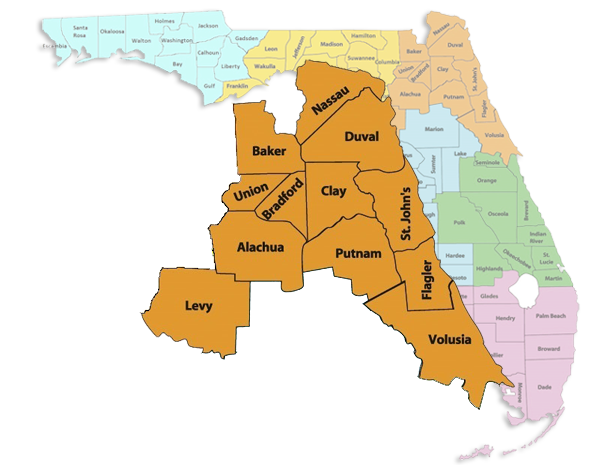 Northeast Florida - Orange Region - 2