Citrus

District Resources
Citrus County resources related to the transition of students with disabilities are provided in multiple categories in the box to the right. Some resources may be included in more than one category.
Local Agency Resources
Agency for Person with Disabilities
H. David Johnston, Area 13 Administrator
(352) 330-2749
Brenda Stevens, Liaison for Family Care Council | brenda_stevens@apd.state.fl.us
Supports persons with developmental disabilities (spina bifida, autism, cerebral palsy, Prader-Willi syndrome and mental retardation) in living, learning and working in their communities
Children's Medical Services - Florida
Bridget Mimnagh | bridget_mimnagh@doh.state.fl.us
(352) 527-0247
Offers programs for children and young adults with special needs including health services, child protection and safety, child and family information, early intervention and child development and newborn screening provided by highly qualified physicians, nurses, social workers and other healthcare providers
Department of Children and Families
Bill D'Aiuto, Circuit 5 Administrator
(352) 330-2177
Provides information and/or services for adoption, child care, family safety, financial assistance, foster care, refugee services and mental health
Division of Vocational Rehabilitation - Beverly Hills Unit 10A
Matthew Smith | matthew.smith@vr.fldoe.org
(352) 746-7787 ext.115
Works with people who have physical or mental disabilities to prepare for, gain, or retain employment and find meaningful careers
Lighthouse for the Visually Impaired and Blind
(727) 815-0303 I referrals@lvib.org
9130 Ridge Road, New Port Richey, FL 6492 California Street, Brooksville, FL
Lighthouse for the Visually Impaired and Blind offers adults and seniors with a comprehensive vision rehabilitation program to promote optimal independence in all areas of independent living and includes assistance with coping and adjusting to vision loss and low vision. Babies served in "The Little Lighthouse" learn to use any residual vision they may have as well as their other senses so they are able to meet developmental milestones and are prepared for entering school. Children and teens receive independent living skills training and prepare for future employment. Family members and professionals also receive support and information. Clients are provided with transportation for services at both of our Lighthouse facilities. We also have low vision stores in Port Richey and Brooksville.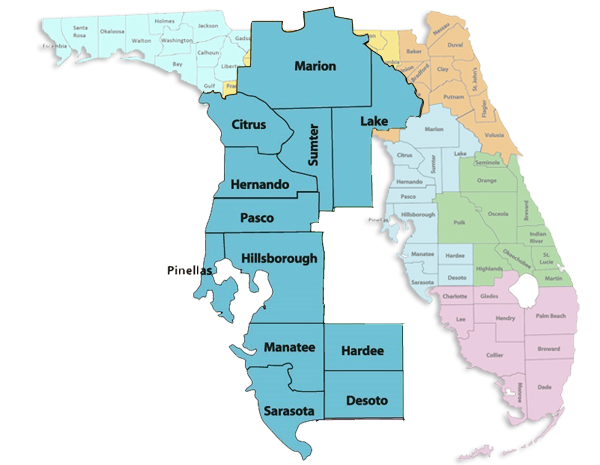 West Central Florida - Blue Region - 4