Hardee

District Resources
Hardee County resources related to the transition of students with disabilities are provided in multiple categories in the box to the right. Some resources may be included in more than one category.
Local Agency Resources
Agency for Persons with Disabilities (APD)
Clarence Lewis, Central Region Manager
(352) 330-2749
200 N. Kentucky Ave, Lakeland, FL 33801
Works in partnership with local communities and private providers to assist people who have developmental disabilities and their families. APD also provides assistance in identifying the needs of people with developmental disabilities for supports and services. The agency serves more than 50,000 Floridians with the following disabilities: People severely impaired by Autism, Cerebral palsy, Spina bifida, Intellectual disabilities, Down syndrome, Prader-Willi syndrome, Phelan-McDermid syndrome.
Career Source Heartland
(863) 773-3474 | (863) 773-3949
Hardee Center, 324 Sixth Avenue North, Wauchula, FL 33873-3317
Provides a full array of employment and training related services for job seekers, workers, youth and businesses. May include Disability Program Navigators, Vocational Rehabilitation counselors and Veterans Services on-site.

Division of Vocational Rehabilitation Services
Laurel White, Supervisor
(863) 773-2802
Wauchula Unit 19AA, 324 N. 6th Ave, Wauchula, FL 33873
Works with people who have physical or mental disabilities to prepare for, gain, or retain employment and find meaningful careers.

Division of Blind Services
Nancy Brown, Supervisor
(863) 499-2385 | (877) 728-7738
Division of Blind Services, 402 S. Kentucky Avenue, Suite 340, Lakeland, FL 33801
The Florida Division of Blind Services helps blind and visually impaired individuals achieve their goals and live their lives with as much independence and self-direction as possible.
Lighthouse for for the Blind and Low Vision
Tampa Office: (813) 251-2407
1106 West Platt Street, Tampa, FL 33606
Winter Haven Office: (863) 299-3633
206 Avenue D NW Winter Haven FL 33881
tlh@lighthouseblv.org
Lighthouse for the Blind and Low Vision (LBLV) provides training and other services that are designed to help each person served to maximize his or her independence, including, if applicable, enhancing prospects for gainful employment. Programs tailored to the needs of individuals of all ages include Early Intervention, Children's Program, Transitions for Teens and Independent Living for Adults. All services are provided at no charge to the individual. All direct services are provided by staff trained in visual impairment and rehabilitation programs for the blind. Rehabilitation Engineering services are provided Statewide by LBLV Assistive Technology Specialists to help blind or visually impaired individuals maintain their existing employment through the use of assistive technology and devices.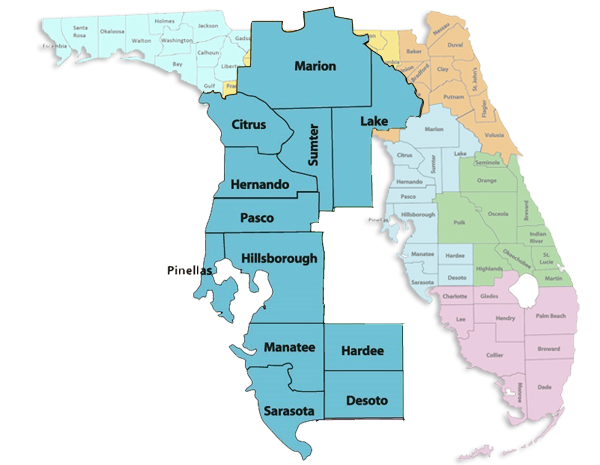 West Central Florida - Blue Region - 4