Hardee

District Resources
Hardee County resources related to the transition of students with disabilities are provided in multiple categories in the box to the right. Some resources may be included in more than one category.
Employment Program Resources
Career Source Heartland
(863) 773-3474
Hardee Center, 324 Sixth Avenue North, Wauchula, FL 33873-3317
Provides a full array of employment and training related services for job seekers, workers, youth and businesses. May include Disability Program Navigators, Vocational Rehabilitation counselors and Veterans Services on-site.

Division of Vocational Rehabilitation Services
Laurel White, Supervisor
(863) 773-2802
Wauchula Unit 19AA, 324 N. 6th Ave., Wauchula, FL 33873
Works with people who have physical or mental disabilities to prepare for, gain, or retain employment and find meaningful careers.

Division of Blind Services
Nancy Brown, Supervisor
(863) 499-2385
Division of Blind Services, 402 S. Kentucky Avenue, Suite 340, Lakeland, FL 33801
The Florida Division of Blind Services helps blind and visually impaired individuals achieve their goals and live their lives with as much independence and self-direction as possible.

Agency for Persons with Disabilities (APD)
Clarence Lewis, Central Region Manager
(352) 330-2749
200 N. Kentucky Ave, Lakeland, FL 33801
Works in partnership with local communities and private providers to assist people who have developmental disabilities and their families. APD also provides assistance in identifying the needs of people with developmental disabilities for supports and services.The agency serves more than 50,000 Floridians with the following disabilities: People severely impaired by Autism, Cerebral palsy, Spina bifida, Intellectual disabilities, Down syndrome, Prader-Willi syndrome, Phelan-McDermid syndrome.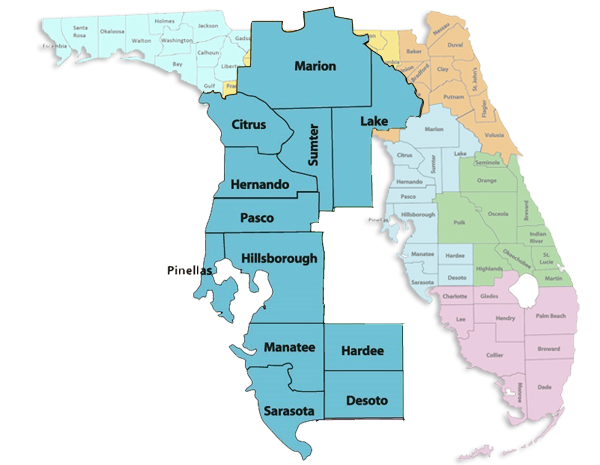 West Central Florida - Blue Region - 4