Hernando

District Resources
Hernando County resources related to the transition of students with disabilities are provided in multiple categories in the box to the right. Some resources may be included in more than one category.
Student/Family Resources
Agency for Persons with Disabilities (APD)
Clarence Lewis, Central Region Manager
(352) 330-2749
200 N. Kentucky Ave, Lakeland, FL 33801
Works in partnership with local communities and private providers to assist people who have developmental disabilities and their families. APD also provides assistance in identifying the needs of people with developmental disabilities for supports and services.The agency serves more than 50,000 Floridians with the following disabilities: People severely impaired by Autism, Cerebral palsy, Spina bifida, Intellectual disabilities, Down syndrome, Prader-Willi syndrome, Phelan-McDermid syndrome.
The ARC of Nature Coast
(352) 544-2322
5283 Neff Lake Rd., Brooksville, FL 34601
Provides support and advocacy for persons with intellectual/developmental disabilities and their families
Bay Care
(352) 540-9335
15311 Cortez Blvd., Brooksville, FL 34613
Adults and children are provided recovery services to help them make informed, healthy choices that support their physical and emotional well-being.
Career Source Pasco Hernando
(352) 200-3020
7361 Forest Oaks Blvd, Spring Hill, FL 34606
Provides a full array of employment and training related services for job seekers, workers, youth and businesses. May include Disability Program Navigators, Vocational Rehabilitation counselors and Veterans Services on site
Center for Independent Living of North Central Florida
(800) 265-5724
222 SW 36th Terrace, Gainesville, FL 32607
Community disability resource center operated by people with disabilities serving multi-county area including Hernando County
The Department of Children & Families
(352) 279-1962
661 S. Broad Street, Brooksville, FL
The Department of Children & Families has several programs that can help Florida families. These include ACCESS Florida, Adult Services and Child Care.
Division of Blind Services
Nancy Brown, Supervisor
(863) 499-2385
Division of Blind Services, 402 S. Kentucky Avenue, Suite 340, Lakeland, FL 33801
The Florida Division of Blind Services helps blind and visually impaired individuals achieve their goals and live their lives with as much independence and self-direction as possible.
Division of Vocational Rehabilitation Services
Spring Hill Unit 16A
Kevin Bargerstock, Supervisor
(352) 610-5212
7361 Forest Oaks Blvd., Spring Hill, FL 34606
Works with people who have physical or mental disabilities to prepare for, gain, or retain employment and find meaningful careers
FAAST Central Florida Demonstration
(813) 844-7591
Center Tampa General Rehabilitation Center, 6 Tampa General Circle Room 214, Tampa, FL 33606
A resource to provide free access to assistive technology through hands-on demonstrations and training
Lighthouse for the Visually Impaired and Blind, Inc.
(352) 754-1132
6492 California St., Brooksville, FL 34604
Provides people who are visually impaired and blind with the skills needed to achieve their maximum independence
NAMI Hernando
10554 Spring Hill Drive, Spring Hill, FL 34608
Dedicated to improving the quality of life for people with mental illness and their families through support, education and advocacy
Service Source
(727) 538-7370
2735 Whitney Road, Clearwater, FL 33760
ServiceSource offers a variety of Rehabilitation and Employment Services for people with disabilities.
Social Security Administration
(800) 772-1213
The Social Security and Supplemental Security Income disability programs provide assistance to people with disabilities.
Special Olympics Hernando
(352) 556-4884
9611 Commercial Way, Weeki Wachee, FL 34613
Special Olympics provides sports training and competition to children and adults 8 years of age and older with intellectual and developmental disabilities.
Trans-Hernando
(352) 754-4444
1122 Ponce De Leon Blvd., Brooksville, FL. 34601
Trans-Hernando provides transportation services for transportation disadvantaged citizens of Hernando County.
UF CARD
University of Florida-Gainesville
(352) 273-0581 | (800) 754-5891
P.O. Box 100234, Gainesville, FL 32610
Provides support and assistance with the goal of optimizing the potential of people with autism and related disabilities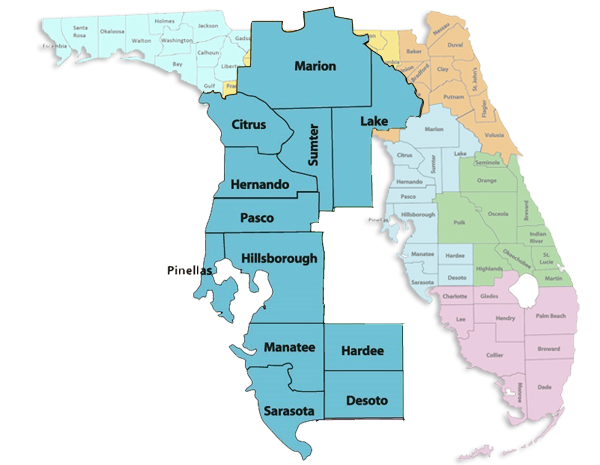 West Central Florida - Blue Region - 4