Hillsborough

District Resources
Hillsborough County resources related to the transition of students with disabilities are provided in multiple categories in the box to the right. Some resources may be included in more than one category.
Student/Family Resources
Adult and Career Services Center
(813) 231-1907
5410 North 20th Street Tampa, FL 33610
The ACSC is a one-stop shop for locating education and training opportunities, career counseling and workplace and educational workshops. An array of services is offered to adult learners seeking assistance in determining their employability interests/options and educational goals.
Agency for Persons with Disabilities (APD)
Jeff Smith, Suncoast Region Manager
(800) 615-8720
1313 North Tampa Street, Suite 515, Tampa, FL 33602
Works in partnership with local communities and private providers to assist people who have developmental disabilities and their families. APD also provides assistance in identifying the needs of people with developmental disabilities for supports and services. The agency serves more than 50,000 Floridians with the following disabilities: People severely impaired by Autism, Cerebral palsy, Spina bifida, Intellectual disabilities, Down syndrome, Prader-Willi syndrome, Phelan-McDermid syndrome.
Bloomingdale Premier Care Center
Carol Josephs, CEO | cjosephs2000@yahoo.com
(813) 643-2093
804 W. Bloomingdale Ave. Suite A, Brandon, Fl. 33511
"Services we offer include adult day training center, behavior assistant, private duty nurse, respite and residential habilitation."
Career Source Tampa Bay
(813) 930-7400
9215 N. Florida Avenue, Suite 101, Tampa, FL 33612
Brandon
(813) 930-7832
9350 Bay Plaza Blvd., Suite 12, Tampa, FL 33619
Ruskin
(813) 419-5300
201 14th Ave., SE, Ruskin, FL 33570
Career Prep Center
(813) 419 5311
2605 N. 43rd Street, Tampa, FL 33605
Provides a full array of employment and training related services for job seekers, workers, youth and businesses. May include Disability Program Navigators, Vocational Rehabilitation counselors and Veterans Services on-site.

Department of Children and Families
(813) 558-5500
9393 N. Florida Avenue, Tampa, Fl., 33612
DCF offers public assistance to eligible customers. Services include; food assistance program, medical assistance, temporary cash assistance and general program information.
Division of Blind Services
Mireya Hernandez, District Administrator
(813) 871-7190
1313 North Tampa Street Suite 712, Tampa, FL 33602
Division of Vocational Rehabilitation Services
Brandon Unit 15E
Marivett Gerena-Marrapodi, Supervisor
(813) 653-7080
510 Vonderburg Dr., Suite 307, Brandon, FL 33511
Tampa Units 15B and 15D
Patricia Youhn, Supervisor 15B
Vincent Cosentino, Supervisor 15D
(813) 233-3600
1313 North Tampa Street, Suite 801
Tampa, FL 33602
Tampa Unit 15C
Patricia O'Malley, Supervisor
(813) 559-6456
9215 N Florida Ave., Suite 106, Tampa, FL 33612
Works with people who have physical or mental disabilities to prepare for, gain, or retain employment and find meaningful careers.
Florida Alliance for Assistive Services and Technology (F.A.A.S.T.)
faast@faast.org
(850) 487-3278 | (888) 788-9216
Provides advocacy and awareness activities that increase access to and acquisition of assistive services and technology including a loan program to try out assistive technology (AT), assistance with purchasing AT, an emergency AT fund and information on affordable housing
Florida Health and Transition Services
University of South Florida
Janet Hess, Project Director, USF | jhess@health.usf.edu
(813) 259-8604

Center for Autism and Related Disabilities (CARD)
(813) 974-2532
CARD provides information and consultation to individuals diagnosed with autism spectrum disorders and related disabilities.
Hillsborough Area Regional Transit Authority (HART)
1201 E. 7th Avenue, Tampa, Fl., 33605
Mark Sheppard, Travel Trainer | sheppardm@gohart.org
(813) 384-6307
1201 E. 7th Avenue, Tampa, Fl., 33605
HART serves the people of Hillsborough County with affordable public transportation.
Hillsborough County Parks and Recreation
Melinda Wheatley, Therapeutic Recreation Services | melinda.wheatley@sdhc.k12.fl.us
(813) 744-5978
All People's Life Center 6105 East Sligh Ave. Temple Terrace, Fl. 33617
All People's Life Center is known as one of the County's showcase facilities and it is home base for the Therapeutics program.
Learning Academy
Susan Richmond, Program Director | srichmond@usf.edu
(813) 974-2996
The Learning Academy at the University of South Florida is a 30-week program designed to provide a structured employment-focused curriculum for individuals diagnosed with an Autism Spectrum Disorder, between18-25 who have graduated.
Learning Your Function
jc@lyfinc.com
(813) 469-2455
2017 Reigler Rd. Land O' Lakes, FL 34639 Jim Cracchiolo, Director
LYF is a tailored training model that will focus on individualized goals in the area of functional academics, appropriate behavior skills, employment and independence.
MacDonald Training Center/ James Ranch Campus
lherring@macdonaldcenter.org
(813) 870-1300 ext. 307
5420 W. Cypress Street, Tampa, Fl., 33607 Leah Herring, Transition Facilitator
At MacDonald Training Center (MTC) we "empower people with disabilities to lead the lives they choose."
Quest
Samatha Gwaltney, Program Director | sgwaltney@questinc.org
(813) 630-4710 ext. 7731
1404 Tech Blvd., Tampa, FL 33619
Quest helps people with disabilities achieve their dreams of going to school, having a job, living on their own and experiencing summer camp
Self Reliance
Gary Martoccio, Director of Programs and Services | gmartoccio@self-reliance.org
(813) 375-3965
8901 N. Armenia Avenue, Tampa, Florida 33604
Self Reliance promotes independence through empowering persons with disabilities.
Success 4 Kids and Families (S4KF)
Nanci Nolan | nnolan@s4kf.org
(813) 490-5494 ext. 212
A non-profit, in-home treatment program for families operating out of Hillsborough County.
Sunrise Community Center for Life Development & Tampa Work Services
Makiesha Watson | mwatson@sunrisegroup.org
(813) 830-7823
2714 W. Kirby Street, Tampa, Fl. 33614
"Our mission is to provide people with disabilities the assistance and support necessary to enable them to live valued lives in the community."
Tampa Lighthouse for the Blind
transition@tampalighthouse.org
Sheryl Brown | sheryl.brown@tampalighthouse.org
(813)251-2407
Sue Glaser
(813) 251-2407
1106 West Platt Street, Tampa, Florida 33606
Tampa Lighthouse for the Blind provides on-site comprehensive rehabilitation programs for persons who are blind or visually impaired.
VSA Florida
Patt Fosnaught |
pr.fosnaught@gte.net
(813) 250-3875
The mission of VSA Florida is to provide, support and champion arts education and cultural experiences for and by people with disabilities.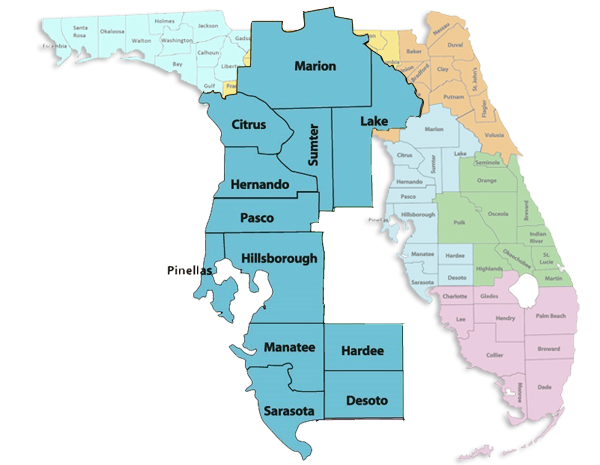 West Central Florida - Blue Region - 4